INVENTOR OF WEB CLEANING
KELVA TLX – our most versatile double-sided, non-contact web cleaner!
Removes dust and debris from almost every material surface with up to 3000 mm web width!
Developed with KLEVA's knowledge and experience gained from more than 7000 installations worldwide in web cleaning and most different industrial R2R applications.
Analyse the dust-load related to your specific settings of materials, web width and processing interfaces
What if a single web cleaner is enough to remove all dust and debris from any of your material surfaces?
The KELVA Web Cleaner type TLX for double-sided, non-contact web cleaning is suitable for medium to wide web widths, which makes your flexibility in processing different sizes and materials granted.
This versatile web cleaner features a very powerful airflow of both, vacuum and blowing air, as well as integrated antistatic bars, so that dust and particles from even very wide webs will be removed in an extremely efficient way.
The risk of damaged material surfaces by debris will be eliminated. Your whole production environment gets clean and thus a high quality of your end-product will be assured. If the materials continue to be finished, their dust-free state will highly reduce any maintenance and cleaning cycles of the subsequent production machinery.
The dust sucked is collected in the dust bin of the filter-/fan unit after automatic cleaning of the filter plates. Every 20 seconds the dust is dropped off into the collection tray, which can be easily emptied.


KELVA Non-Contact Web Cleaning Principle
During non-contact web cleaning the surface of the material won't be physically touched. Instead a combination of underpressure, blown air and ionisation is used to remove any loose particle from the surface of the web.

This is the ideal method for extracting varying dust loads and particles depending on material, processing interfaces and finishing purposes.
A KELVA non-contact cleaning system includes a web cleaner with integrated antistatics, a filter/fan unit and connecting duct system. It can be easily installed into all types of R2R-production machines, be it new machines or as retrofits in existing production systems.
Developed with KLEVA's knowledge and experience gained from more than 7000 installations worldwide in web cleaning and most different industrial R2R applications.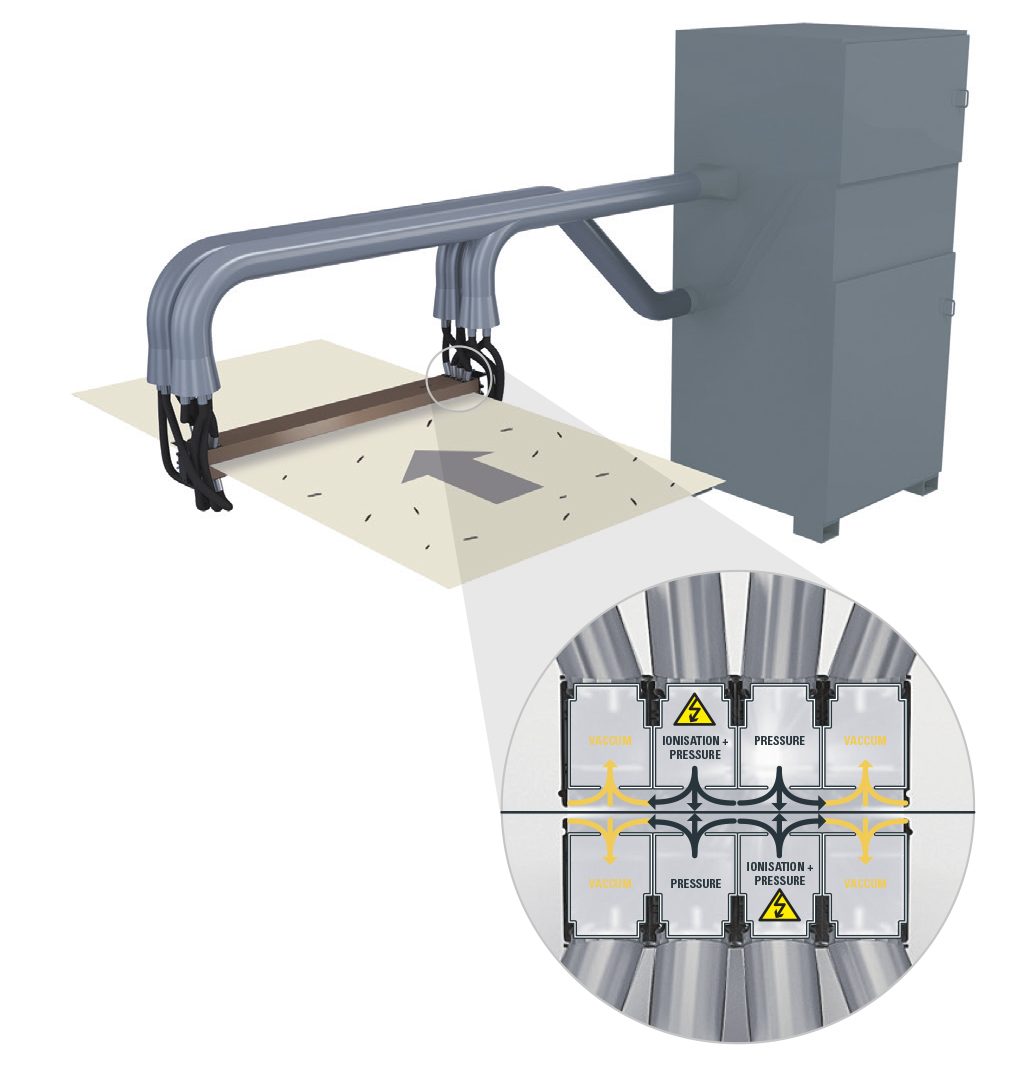 KELVA Web Cleaner Head
Web cleaner heads of the TL-series follow the non-contact cleaning principle and remove the debris from both sides of the material surface. The web cleaning system offers an integrated anti-static device, infeed plate and grid.
Automatic adjustment functions allows cleaning of material with various thicknesses. Configurations can be adapted to any specific demand and web width.
KELVA Filter-/Fan Unit
Filter-/fan units consist of two parts: The upper part includes the ventilator providing the blowing air and the suction air for the whole web cleaning system. In the lower part the filter plates are installed for collecting the dust. They will be automatically cleaned by a jet pulse de-dusting system.The dust finally falls down into a dustbin. The filter area can be adapted to bigger dust loads and various web widths.
KELVA Non-Contact System
KELVA non-contact cleaning systems include a web cleaner head incl. integrated antistatics, a filter/fan unit and a connecting duct system. The cleaner head ideally is installed before and after critical processes for extrac-ting the dust and particles and thus making clean the product surface for a next production- or finishing step. The filter/fan can be installed farther away, dependig on the space conditions on site.
Get your ROI in less than a year!
When investing in a KELVA web cleaning system you will soon have the benefit of large improvements in production hours. Removing contamination from material surfaces improves quality for finishing processes and of the end products.

Once installed, it reliably will eliminate the dust and debris for many years.
Our experts will be happy to help you. Contact us!
KELVA is the leading supplier of web and sheet cleaning equipment. Specific solutions for corrugated board, tissue, non-woven, film, glass, glass fiber, printing (among others) assure you of the best web cleaning solution for your application. Over 7.000 installations worldwide show that KELVA is a proven partner for dust and contamination free production.