INVENTOR OF WEB CLEANING
How to reduce costs in corrugated board production quickly and efficiently with dust removal systems from KELVA
Demand for corrugated board packaging solutions is high. Turnover and sales are rising steadily. Nevertheless, the industry is struggling with extremely high cost pressure due to the sharp rise in paper and energy prices.
Material and production efficiency must be increased. However, the converting of corrugated board generates dust and waste, which impair production machines and downstream processes and cause unpleasant costs.
Innovative web cleaning systems from KELVA prevent machine breakdowns, rejects and thus even higher costs and loss of sales.
VISIT US AT INDIA CORRU 2023, HALL 4 /BOOTH 78
Register for an appointment!
Ensure the quality of the end product, protect your machine, save the health of your employees!
By integrating a dust removal system into the production and finishing processes, for example, composite adhesion is improved, print quality is enhanced, and machine damage is prevented. The corrugated board surface is reliably freed from dust and trim waste. A clean surface is a prerequisite for perfect print results.

Fewer washing cycles, less wear, less maintenance mean less downtime and significantly reduced service costs. This makes your production efficient, ensures the quality of the end products and also provides a cleaner working environment.
KELVA web cleaning systems can be easily installed in all production machines, whether as a new installation or as a retrofit to existing equipment.
Get your ROI in less than a year!
When you invest in a KELVA web cleaning system, you can expect the equipment to pay for itself in less than 12 months.

With significantly fewer wash cycles and maintenance, you'll save money and improve your production performance.
Once installed, the KELVA web cleaner reliably removes dust and dirt for many years.

We analyze the dust load in your corrugated production and show you, how to solve the dust problems and to save costs quickly!
The KELVA Non-Contact Web Cleaning Principle
With non-contact web cleaning, the surface of the material is not physically touched.
Through the combination of blowing air and suction air and with the help of ionization, all loose particles are efficiently extracted from the surface of the material web.
It is the ideal method to eliminate high levels of dust and the variety of particles typical of corrugated board production.
A KELVA cleaning system consists of a web cleaner head with integrated antistatic, a filter/fan unit and a piping kit.
The installation can be flexibly adapted to all spatial conditions.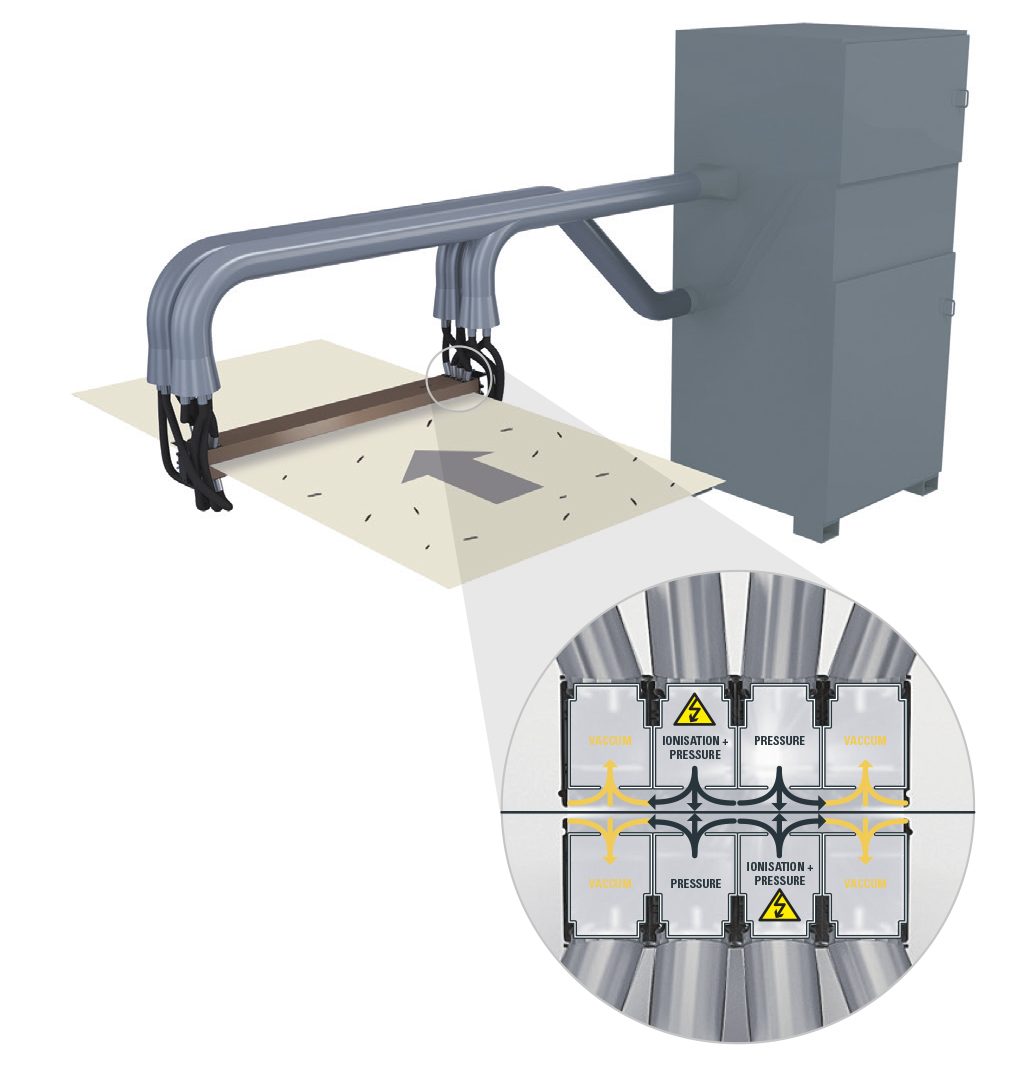 KELVA Web Cleaner Head
The KELVA ST85CC has been specially developed for use in corrugated board production. Contaminants are extracted from both sides of the web. The web cleaning configuration offers an integrated antistatic device, an infeed plate and a grid. Automatic height adjustment allows cleaning of boards with different thicknesses. The dust extraction systems are precisely adapted to your specific requirements and web widths.
KELVA Filter-/Fan Unit
Filter/fan units consist of two parts: The upper part contains the fan that supplies the blowing air and the suction air for the entire web cleaning system. The lower part contains the filter pallets that trap the dust. The filter pallets are automatically cleaned by a jet-pulse system and the dust falls into a collection bin. The filter area depends on the degree of dust loading.
KELVA Non-Contact System
Sensitive, porous and fibrous materials must be cleaned without contact so that the substrate surface is not damaged. When these materials are further processed by longitudinal and transverse cutting, creasing or punching, a lot of dust and cutting particles are generated. Therefore, the cleaning head should be installed before and after these critical processes.
Our experts will be happy to help you. Contact us!
KELVA is the leading supplier of web and sheet cleaning equipment. Specific solutions for corrugated board, tissue, non-woven, film, glass, glass fiber, printing (among others) assure you of the best web cleaning solution for your application. Over 7.000 installations worldwide show that KELVA is a proven partner for dust and contamination free production.